You are looking to buy a MIDI keyboard?
… but you are overwhelmed by the number of models, the features?

Follow the guide into the marvelous realm of MIDI keyboards and our selection of the best MIDI keyboards.
But first, why buying a MIDI keyboard?
A MIDI keyboard is an essential tool when it comes to create music on a computer, be it jazz or hip-hop.
Since you can directly record what you play and use thousands of instruments or sounds, it is a powerful addition to any home studio.
Also, since these keyboards are light-weight, they are highly portable (well less for the 88-keys models of course!). Thus, you can create or play virtually anywhere. Good to have for any musician on the go.
If you want to buy a MIDI keyboard as a cheaper option to learn the piano, you have to choose the right model.
Indeed, you need full-weighted keys to learn how to articulate the notes. Not many MIDI keyboards offer that, and they are more expensive. Check out the 88-key models because there the only ones featuring realistic piano keys.
What is a MIDI keyboard?
Wait, we haven't even explained what a MIDI keyboard is!
OK, let's get to this.
A MIDI keyboard is basically…. an electronic keyboard. Yes, surprising I know.
The particularity is that they don't produce any sound by themselves. They need to be plugged in a computer, tablet or phone and use a software to generate or reproduce the sounds.
Actually, these keyboards can be seen as a sophisticated array of switches used to send signals to the computer.
When you press a key or turn a knob, a MIDI message is generated. It is then sent to the software on your device which will interpret it in terms of pitch, note length, modulation, volume…
But what is MIDI?
MIDI stands for Musical Instruments Digital Interface. An old communication system created in 1981 to control different devices from a single controller.
That's why MIDI keyboards are part of the more general category of devices called MIDI controllers.
As any communication system, it needs a physical way to transport messages from a device to the other. This is done in two ways: MIDI cables or USB cables.
Nowadays, USB cables are the most common type. You just plug it in the USB connectors of your devices as you would do for any other equipment such as a printer.
In our case, it will be from your MIDI keyboard to your computer. Quick and easy.
But the old MIDI cables and connectors are still in use, more often in professional setups. You might need them for more specific devices or depending on your keyboard.
Or just to show you know your stuff in musical equipment. Just don't try to connect a USB keyboard with a MIDI cable. Instant loss of credibility.
If you need those cables, check here for a large selection.
Mapping your keyboard controllers
What's that?
Yes, you may have to map your keyboard controls in your software.
Most controls will be directly mapped, but you may need to manually edit or add a few one.
There is not general rule here. It will depend on the DAW you use. You will find the relevant information on their website or in your keyboard manual.
See here an example for Ableton.
So don't panic if it seems that your keyboard "doesn't work". Probably just a matter of tweaking your DAW settings.
DAWs and other software
As we saw earlier, the production of sounds with a MIDI keyboard totally relies on a software.
This is thus the second most important part of your gear.
I won't go into details here, but let's see quickly the most common software.

DAW
To be sure we all know what we are talking about DAW=Digital AudioWorkstation.
It is a complete solution to create and record music on any devices from computer to phones.
Yes, you can plug your MIDI keyboard into your phone and make music. That's what I do myself quite often. Pretty amazing, right?
A few examples of the main DAWs on the market: Ableton Live, Garageband, Cubase, ProTools, FL Studio, Studio One, Logic Pro.
Inside your DAW, you can create tracks for different instruments or to add loops. So if you have for example a track with a piano sound, you can plug in your MIDI keyboard and start playing the piano. And record yourself.
You can create audio or MIDI files from this and share them with the world!
There is much more to it and I will cover that in-depth elsewhere.

Modules
DAWs is the most common way to generate sounds with a MIDI keyboard, but it is not the only option.
There are modules, such as KORG Gadget which are independent of DAWs and allows you to generate various sounds, from piano samples to original synthesizers.

Practice software
You can use various piano practice software to play.
For example, several online piano lessons applications integrate such a feature. Read our guide here for more information.
There are also online piano application, such as onlinepianist or virtualpiano.net.
Or apps such as Synthesia.
What to check when buying a MIDI keyboard?
MIDI keyboards can be very simplistic or quite sophisticated.
And you can be a bit lost when it comes to picking the one you actually need.
Let's have a look into the main components and features you need to know to choose your keyboard.

Wheels
These controllers are quite common on keyboards in general, and MIDI keyboards are not exception.
There are two wheels: a pitch wheel and a modulation wheel.
The pitch wheel, also called pitch bend, is used to alter the pitch up or down while you maintain the key pressed. It generates an effect similar to a bend on a guitar string.
The modulation wheel is used to modify the sound itself. It will depend on the sound and software you use. For example, in Garageband if you use the acoustic guitar sound, using the modulation switches from regular notes to muted notes. On a string sound, it will increase or decrease the vibrato.
Watch this video to see a demo of both. Actually, on the keyboard used here, there are both integrated into the same controller: a joystick/wheel combo (I don't know how this thing can be called!).

Knobs or rotating encoders
Turning knobs on a screen with a computer mouse is kinda awkward if you ask me.
Physical knobs you can really turn with your fingers are much better. Not only because of the satisfaction of feeling an actual knob, but also because it is more precise to adjust the parameters that way.
Some MIDI keyboard models only offer one knob. It is used then mostly to adjust the volume of the track you have selected.
But often, there are a series of knobs which allow you for example to mix all the tracks. Just as you would do with a mixing table.
Or playing with the different parameters of an effect.
It depends on the mapping.

Sliders/faders
Similar as the knobs, you may have physical sliders or faders on your keyboard. With the same advantage of "touching" something instead of trying to move your computer mouse pointer precisely.
The best usage is of course for mixing your music.

Pads
Pads are also commonly found on MIDI keyboards.
They can be used in two ways: as an array of switches to control functions of your software, or to create beats/drums sequences.
There are two "schools" there: some people prefer to use pads for drums, others prefer to use the keyboard keys. Try both and use what you prefer.
I even personally use my computer keyboard and it works just fine. But I won't do that too much though, I want to keep it intact!
However, if you want to use pads for making all your beats, choose a keyboard with high quality pads. On cheaper models, they can lack of precision or not respond each time. Quite annoying for drums I would say!

Joysticks
A few models offer joystick in place of the old-fashioned wheels. The main advantage is then to allow further dimensions of modulation.
You can modify live more than one parameter of your sound. An interesting way to give extra expressivity to your music.

Transport buttons
Very useful ones. You can start, stop, rewind, set a loop directly with these buttons. No need to leave your keyboard, start searching where your computer mouse could have been when you didn't watch. Or where your cat pushed it.
I don't have any on my current keyboard but this is clearly one of the mandatory features I want on my next keyboard.

Connections
You will have at least a USB connector. Sometimes a MIDI connector as well.
But if you want to play some piano, I would highly recommend that you look for a model with a connector for an external pedal. Usually a sustain pedal.
They are not provided with the keyboard in general, but you can find different models on the retailers' website.

Aftertouch
This is something people talk about a lot. You can easily find people complaining about a MIDI keyboard because it doesn't offer the Aftertouch feature.
But it sounds a bit mysterious for beginners.
It is a feature of the keyboard keys: they have an additional pressure-sensitive system. This adds some modulation on the sound depending on how much you keep pressing the key after having pressed it initially. Hense the name "aftertouch".
This gives you more expressivity of what you play.
Beware though, that in most instruments, it is a "channel aftertouch". All the notes will be affected the same way if you play several notes. It is a limitation of this effect.
But a few high-end instrument offer a "polyphonic aftertouch" where every single note can have its own effect. Much more expensive though.
Watch here a demonstration with more explanation of this feature:
Arpeggiator
An arpeggiator is a feature on some keyboard and DAW which generates a sequence of notes from a single key pressed.
It plays an arpeggio, hence the name.
You can choose the number of steps and their direction. This can be done, by pressing the keys to select the notes of the sequence. Then they play automatically following the beat you defined in your DAW.
Particularly convenient on small keyboards.
And to save your hands from injuries if you play rapid-fire arpeggios for hours!

Watch below a demonstration of the arpeggiator on an Akai MPK mini:
What about the number of keys?
MIDI keyboards come with various numbers of keys, from 25 to 88.
To be more specific, here are the different keyboard sizes: 25,32,37,49,61,73,76,88.
Now you can play the lottery.
Just kidding.
The right question is how many keys you need?
It depends on your WHY, your purpose.
If you are a music producer willing to create beats, go for the popular 25 keys keyboards with pads and knobs.
If you want to play full piano pieces, 88 keys would be a must. But 61 could be enough because the highest and lowest notes are not much used. Except for in classical music.
If you want a smaller size keyboard, you could go for a 49 keys and still be able to play two-hand piano pieces.
However, you have to check the size of the keys. Often the smaller keyboards offer mini-key and not full-sized ones.
Our selection of the best MIDI keyboards in 2022
You will find below our selection of the best MIDI keyboard at the moment.
They are sorted by the number of keys, a convenient way to find quickly the right keyboard for you.
The criteria of this selection are the quality, the cost-effectiveness, the features/price ratio, the ease of use, and robustness.
Before diving into this list, you have to know that several models come in multiple sizes.
And in different colors!
So click on the button below to check the variations at the retailer website.

[su_note note_color="#e6e6e2″]AFFILIATE WARNING: the link below are affiliate links, which means if you use them to buy products (at no cost for you!), you will support this website and get back more awesome content for free![/su_note]
The best 25 keys MIDI keyboards
The 25-key MIDI keyboards are ideal for producers or for any music creator which a compact instrument easy to manipulate and move around. Even to create on your sofa! Small but powerful depending on the models. You can make a full career with those, if you don't want to play the piano or two-hand parts of course.
Watch below how with a 25-keybord you can do a convicing cover of "Clint Eastwood" by Gorillaz:

Akai Professional MPK Mini MK2
Why we love it?
The best-seller for years. It is particularly popular amongst music producers to create beats with a compact yet powerful keyboard.
Any issue?
Several users complain about the software. Difficult to install and set up.
Key features:
25 Synth-action buttons
4-Way joystick for dynamic pitch / modulation control
8 MPC pads with Note Repeat
Arpeggiator
8 Assignable controls for mixing, plug-in control and more
6.3 mm jack input for sustain pedal
Power supply via USB; mains adapter not required
Dimensions (W x D x H): 317 x 181 x 44 mm
Weight: 748 g
Includes software bundle (downloads): Hybrid 3 by AIR Music Tech, SONiVOX Wobble and Akai Pro MPC Essentials
ARTURIA MINILab MKII
Why we love it?
This little beast from Arturia is impressive. Lots of controls (16 knobs!) for the price. And in a very compact instrument.
Any issue?
On the downside, a few users complain about the knobs, not sensitive enough.
Key features:
25 Velocity-sensitive mini-keys
16 Encoders – 2 of them clickable
2 Banks of 8 velocity and pressure-sensitive pads with RGB lighting (adjustable colors)
Touchstrips for pitch bend and modulation
Sustain pedal connector
USB port
Bus Powered
Dimensions (W x D x H): 355 x 220 x 50 mm
Weight: 1.5 kg
Includes software "Analog Lab Lite" with 500 sounds in V-Collection 5-quality, "Ableton Live Lite" and "UVI Grand Piano" (software download required from manufacturer's website)
Novation Launchkey Mini MK3
Why we love it?
This mini keyboard packs a lot of features. It has even an arpeggiator and 1-finger chord mode. Quite interesting for producers.
I like the presence of transport buttons. Very convenient.
Any issue?
A few connection issues have been reported. It is optimized for use with Ableton Live 10. It seems that not all the controls are mapped on previous versions.
Key features:
Optimized for controlling Ableton Live
16 Velocity-sensitive RGB pads
8 Rotary controllers
Touch-sensitive strips for pitch and modulation
Arpeggiator
Fixed Chord Mode – One Finger Chord Automatic
Buttons for recording, playback, stop / solo / mute and octave switching
Sustain pedal input
Dimensions (W x H x D): 330 x 41 x 172 mm
Weight: 689 g
Akai LPK 25
Why we love it?
If you are on a budget and basically only need a keyboard, this is a nice little toy to get started. It features an arpeggiator which is a nice bonus for the price.
Any issue?
Of course, it is limited and the feel is rather cheap. Don't expect too much.
Key features:
25 Velocity sensitive mini keys
Arpeggiator
Sustain button
Octave up and down as well as tap tempo keys
Four programmable memory banks
Software editor for Mac and PC included
Dimensions: 9.65 x 34.04 x 2.79 cm
Weight: 0.635 kg
Novation Impulse 25
Why we love it?
This is a real music making machine. Semi-weighted keys, aftertouch, 2 pedal inputs, 1 fader, LCD… You have it all. And you will have it for years with this sturdy high-quality keyboard.
Of course, it comes with a high price. But it is worth it.
Any issue?
Nothing wrong with it. You can buy without any doubts.
Key features:
Semi-weighted with aftertouch
Full DAW and plug-in control
8 Backlit drum-pads
1 Fader 55 mm
8 Rotating control knobs
6 Transport buttons
Pitch and modulation wheel
2 Octave keys
Arpeggiator-, Beat-Roll- and Clip-Launch buttons
LCS display
USB port
Expression and Sustain pedal ports
MIDI In/Out
Automap control software
Including Xcite+ software pack, Ableton Live Lite
Dimensions: 525 x 332 x 100 mm
Weight: 3.5 kg
Best 32-37 keys MIDI keyboards
With a few more keys, you start to play more complex melodies or chords. You might even play with both hands. Not on a large range, but you can. I do. Yep, even with 32 mini-keys.

M-Audio Keystation mini 32 mk3
Why we love it?
This is mine!
I mean, I own this model. And I like it. Except that I have big hands and long fingers, so it is a bit challenging playing on mini keys. But it is small and fits easily in a backpack. It is very simple, just plug and play. No settings at all.
And it comes with Protools First and Xpand!2 to get your started if you don't have a DAW. I use it mainly with Garageband though.
Any issue?
Not particularly. Of course, it is limited, keys are small and very light. But it is expected for a small keyboard at this price point.
Key features:
32 Flat velocity mini keys
4 Freely assignable controls – 3 buttons and 1 rotary control
Selectable velocity curves (touch dynamics) to adjust the button sensitivity
Assignable controls for pitch bend and modulation
USB bus-powered
Dimensions: 418 x 105 x 20 mm
Weight: 0.45 kg
Includes Pro Tools First M-Audio Edition and AIR Music Tech Xpand! 2
M-Audio Axiom Air Mini 32
Why we love it?
A nice little keyboard with lots of controls: pads, knobs, transport buttons, and more! It could be a good upgrade for my Keystation Mini 32.
Any issue?
It feels a bit cheap (as most keyboards in this price range) and it has mini-keys.
Key features:
32 velocity-sensitive mini keys
8 pads
8 knobs
Sustain and Pitch Up / Down buttons
Transport and Navigation Buttons
Supports Hyper MIDI mapping technology – automatically detecting and allocating the most DAWs
Including Avid Ignite music creation software
Arturia Keystep
Why we love it?
Again Arturia propose a very serious instrument. This MIDI keyboard features a unique integrated step sequencer and arpeggiator. Plus aftertouch. And lots of connectors including CV/gate.
Any issue?
A few users complain about firmware issues.
Key features:
32x Velocity-sensitive keys (Slimkey)
With aftertouch
Integrated polyphonic step sequencer
Up to 64 steps and 8 simultaneous notes per step
8-Mode Arpeggiator
Chord Play mode
Transport buttons
Pitch and modulation touch fader
USB
MIDI In / Out
CV / gate output
Sync input and output
Sustain pedal input
Miditech Minicontrol-32
Why we love it?
This little one has good features: pitch and modulations wheel instead of the usual buttons, sustain pedal input, volume slider, 8 pads, 4 knobs, arpeggiator, and a few other buttons.
Any issue?
Sure, at this price, the keys are small and a bit cheap. And pads are stiff. But it is reliable.
Key features:
With 32 velocity-sensitive mini keys
Octave / – Buttons
Transpose / – Buttons
Volume Slider
Pitch bend and modulation wheel
Sustain Pedal Connection
USB bus-powered
Dimensions: 450 x 120 x 50 mm
Weight: 0.75 kg
Native Instruments Komplete Kontrol M32
Why we love it?
Native Instruments is a leader in the field. Not only for their instruments but for the quality of the software and sounds. This keyboard is fully integrated into the NI ecosystem, with a high-quality full of controls device.
Any issue?
On the downside, the integration with other DAWs can be problematic.
Key features:
32 Velocity-sensitive synth-action mini keys
2 Touch strips for pitch and modulation
8 Touch-sensitive control knobs
OLED Display
4D-Push-encoder
NKS (Native Kontrol Standard) compatible
Pedal input: 6.3 mm jack
USB port
Dimensions (W x D x H): 475 x 167 x 50 mm
Weight: 1.45 kg
Includes KOMPLETE instruments and FX: Monark, Scarbee Mark I, Reaktor Prism, Komplete Kontrol software, Machine Essentials, Komplete Start, Ableton Live 10 Lite
Korg microKEY 37 MkII
Why we love it?
We have here an intermediate sized keyboard: 37 mini keys. These are "Natural touch" keys offering a better touch and the usual "synth" action keys.
Any issue?
Not much to complain about. Except for the key size of course.
Key features:
Compact Natural Touch mini keys
Pitch bend wheel
Modulation wheel
Octave shift button
Power via USB
Dimensions (W x D x H): 565 x 139 x 54 mm
Weight: 1 kg
Incl. KORG Software Bundle Code and USB cable.
The best 49 keys MIDI keyboards
Now we come to the world of full-sized keys with 4 full octave keyboards. Much serious options to play full piano or synth pieces.
And the price is not much higher than smaller MIDI keyboards.
Nektar SE49
Why we love it?
A good started option among the 49-key MIDI keyboard family. Great quality keyboard and really cheap, with the essential controls. Includes Bitwig, the Nektar DAW to get you started into music creation.
Any issue?
No complaints with this one, except limited controls. But for the price and quality, it is a no-brainer!
Key features:
49 velocity-sensitive keys;
7 switchable velocity curves (4 user presets, 3 fixed presets);
Octave Up/Down & Transpose Up/Down buttons;
30 mm fader;
DAW control for transport, track and patch selection, level and more;
6.3 mm jack for sustain pedal;
including Bitwig 8-Track software (download);
dimensions: 805 x 197 x 69 mm; weight: 2.2 kg
M-Audio Oxygen 49 Mk4
Why we love it?
This M-Audio keyboard is a popular choice among the 49-key models. It is sturdy and offers all the controls you would expect to make your music: knobs, faders, transport buttons, wheels, pads. For the price, it is a very solid option.
Any issue?
A few users complain about the pads quality.
Key features:
8 Velocity-sensitive trigger pads
8 Assignable rotary encoders
9 Assignable faders
Transport buttons for (ex.) DAW management,
LCD Display
USB bus-powered
USB MIDI
Input for sustain pedal
Included in the delivery: USB cable, quick-start guide, software "Ableton Live Lite" and "Sonivox Twist"
Dimensions (W x D x H): 814 x 243 x 94 mm
Weight: 2.9 kg
Korg microKEY Air 49
Why we love it?
This keyboard is particular since it is designed to work wirelessly through Bluetooth to play anywhere easily. Korg made the choice to use mini keys to make as compact as possible for this purpose. Bring it on your sofa and play!
Any issue?
No particular issue, but mini keys are not for everyone.
Key features:
With Bluetooth for wireless operation on iPad, iPhone, Mac or PC
Compact natural touch mini-keyboard
Pitch Bend Wheel
Modulation
Octave Shift button
Damper Pedal connection
Powered via 2x AA battery or USB
Dimensions (W x D x H): 709 x 139 x 54 mm
Weight: 1.4 kg
Incl. KORG Software Bundle Code and USB cable.
IK Multimedia iRig Keys I/O 49
Why we love it?
This keyboard is unique. Because it is much more than a MIDI keyboard, it is a full studio!
Indeed, it integrates an audio interface featuring a Neutrik combo audio input for a microphone (with phantom power) or a guitar, and line outputs.
It has also a device stand to place your iPhone or iPad. And you can charge your device. Fancy.
For greater mobility, it can work with batteries.
Any issue?
A few users complain about the key quality. The connection with your Apple device uses a lightning connection, so not compatible with every model.
Key features:
Compact controller keyboard with 49 velocity-sensitive standard keys
8 Assignable touch-sensitive multicolor pads
2 Touch strips
4 Dual-assigned, assignable touch-sensitive rotary encoders
3 Buttons for transport and editing functions
Audio interface with AD / DA conversion up to 24 bit / 96 kHz
Stereo headphone output: 3.5 mm stereo head, power 100 mW at 50 ohms
Pedal connection: 6.3 mm TRS jack
Mini DIN connector for data cable
Power supply via USB when used on the computer
Batteries or optional power supply with charging function for connected iOS devices
Lightning mini DIN cable 0.6 m
USB mini-DIN cable 0.6 m
iOS device stand
4 x 1.5V AA batteries
Dimensions (W x D x H): 693 x 208 x 65 mm
Weight: 2.18 kg
Arturia KeyLab MkII 49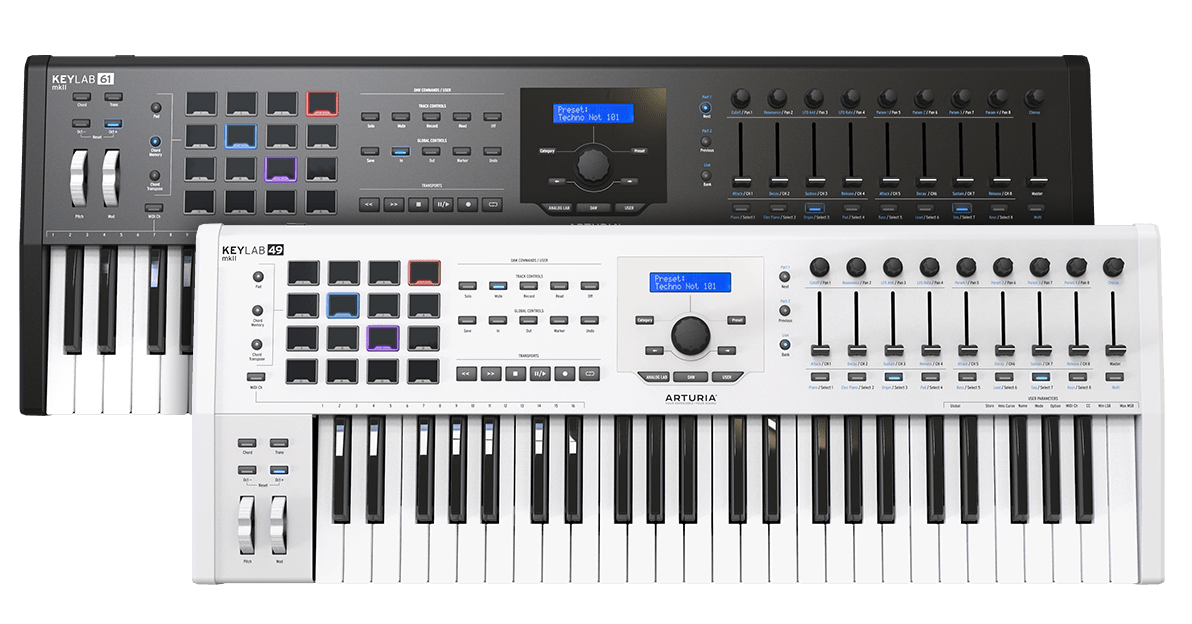 Why we love it?
This is an impressive piece of equipment. Here we forget about cheap plastics to appreciate metal and wood. In terms of features, it has everything you would need to have full control on your DAW. And more! Such as 5 connectors for pedals and external controllers.
Very complete high-quality instrument.
If you have external equipment, it features MIDI and CV (Control Voltage) inputs and outputs. Nice if you have Eurorack equipment.
Any issue?
There are a few complains about software issues, bugs or incompatibility.
Key features:
49 Velocity-sensitive keys with aftertouch
16 Colour illuminated performance pads
9 Faders
9 Rotating control knobs
LC-Display
Category function
Pitch and Modulation wheel
Chord and Transpose function
Transport buttons
5 Expression Control inputs
4 CV outputs
1 CV input
MIDI input and output
USB port
Aluminum housing
Dimensions (W x D x H): 793 x 297 x 53 mm
Weight: 6.3 kg
Includes Analog Lab software with over 6500 sounds, Piano V and Ableton Live Lites
Akai MPK 249
Why we love it?
Less pricey than other models in this selection, this keyboard is tough much capable if you don't need many connectors or CV capability. It has semi-weighted keys with aftertouch, which is a must. And the pads are very good.
Overall it is not particularly original by its features, but everything is well-designed and of high quality. Sometimes, less is more.
Certainly a top choice for many musicians.
Any issue?
A few users find pads a bit stiff.
Key features:
49 Semi-weighted keys
16 MPC pads with RGB lighting
Per 8 assignable knobs, sliders and switches
Inputs for expression and sustain pedal
Arpeggiator
MPC Note repeat
MPC Full level
Tap tempo and time division
Backlit LCD indicator
DAW Integration through comprehensive transport and parameter control
Assignable buttons for keyboard commands
1 x jack input for an expression pedal
1 x jack input for sustain pedal
USB-MIDI and 5-Pin MIDI In/Out
Dimensions (W x D x H): 737 x 311 x 89 mm
Weight: 5.71 kg
Incl. Software downloads: Ableton Live Lite, Hybrid 3 by AIR Music Tech, SONiVOX Twist 2.0 and Akai Pro MPC Essentials.
The best 61 keys MIDI keyboards
If you feel a bit limited with 49 keys to play with both hands, a 61-key instrument is certainly a good solution. You will be able to play most of the piano songs with ease.
Alesis V61
Why we love it?
This is a nice little and affordable MIDI keyboard. Simple and easy to use without taking too much space in your studio. It offers the basic controls you want on a MIDI keyboard plus 8 pads.
Any issue?
Not the greatest keys around, velocity can sometimes be a bit capricious. But nothing too serious.
Key features:
61 Velocity-sensitive keys
Pitch bend and modulation wheel
8 Velocity-sensitive pads with blue LED illumination
4 Assignable pots and buttons
Sustain pedal input
Incl. USB cable
Incl. Software downloads: "Ableton Live Lite" and "xpand! 2 by air music tech"
M-Audio Code 61
Why we love it?
This model from M-Audio has all the features you would expect: 16 pads, 8 fades, 8 knobs, transport buttons and other assignable buttons. Its particularity is an X/Y touchpad to interact creatively with the effect parameters. I find this quite interesting for electronic music, ambient. The feel of the keys is very good (even if this is a matter of personal taste). Which makes it an attractive option for piano playing without going for a much more expensive option with full-weighted keys.
Any issue?
A few users found it complicated to set up and software freezing. As always with MIDI keyboards, your experience depends on the software and computer you use.
Key features:
61 Full-size keys touch-sensitive with aftertouch
Four assignable zones for divisions and stratification
Fully assignable X / Y pads for HID control
16 Fully assignable touch-sensitive trigger pads
8 Assignable 360deg encoders
9 Assignable faders
9 Assignable buttons for assigning keyboard hotkey and MIDI messages
Mackie / HUI transport control allows easy setup of the most popular DAWs
LCD provides instant parameter feedback
Sustain pedal and volume pedal connection
USB bus power mode
5-Pin MIDI inputs and outputs
Dimensions (W x D x H): 1024 x 257 x 73 mm
Weight: 4,95 kg
Incl. Software: Ableton Live Lite
Hybrid 3.0 and Loom from AIR Music Technology
Novation Impulse 61
Why we love it?
This is the 61-key version of the highly-rated Impulse model. It offers high-end features such as semi-weighted keys, 4 split zones, aftertouch and LCD display.
A solid choice and not too expensive.
Any issue?
The main complaint is about the mapping to your DAW which is not straightforward.
Key features:
61 Semi-Weighted keys with aftertouch
8 Backlit drum pads
9 Fader 55 mm
9 Assignable buttons
8 Rotating control knobs
6 Transport buttons
Pitch and modulation wheel
2 Octave keys
Arpeggiator, beat roll- and clip launch buttons
LCD
USB port
Expression and sustain pedal ports
MIDI in/ out
Dimensions (W x D x H): 1022 x 332 x 100 mm
Weight: 6.5 kg
Including Xcite+ software pack, Ableton Live Lite
Native Instruments Komplete Kontrol S61 MK2
Why we love it?
This is a really beautiful high-quality instrument, with a wonderful keyboard (Fatar semi-weighted keys), large color display (not those ugly prehistoric LEDs). It comes with the fantastic Komplete Select sound and instrument collection which is worth in itself 1/4 of the price.
The top.
Any issue?
It works at its full potential only with Native Instruments software. It is not a bad thing, because they have high-quality sounds, but you have to stay in the NI ecosystem.
Key features:
Fatar keyboard with aftertouch and 61 semi-weighted keys
Ergonomic Pitch and Mod wheels plus Touch Strip
Pre-configured Mapping for all KOMPLETE instruments as well as hundreds of NCP-compliant (Native Kontrol Standard) instruments from leading third-party vendors
Tag-based preset browsing: Find sounds quickly and hear instant previews
Two high-resolution color displays for browsing, sound tweaking and more
Light Guide: RGB lights above each button signalize drum cells, key switches, chords, keys, and more
Smart Play: Recognises scales and modes with the Light Guide, play chord progressions and arpeggios with single keys, or map any scale to white keys only
Seamless integration with the MASCHINE Hardware/Software
Intuitive control of Logic Pro X, Ableton Live and GarageBand (Cubase and Nuendo integration will follow soon after the release)
Two freely assignable inputs for foot pedals
MIDI In/Out
Power supply via USB 2.0
Incl. KOMPLETE KONTROL software, as well as KOMPLETE 11 SELECT free of charge (11 premium instruments and effects: Massive, Monark, The Gentleman, Drumlab, Reaktor Prism, Scarbee Mark I, Retro Machines, Vintage Organs, West Africa, Solid Bus Comp, and Replica)
Weight: 6.55 kg
Dimensions (WxHxD): 1006 x 84 x 297 mm
The best 88 keys MIDI keyboards
Lastly, we come to full piano-size keyboards with 88 keys. It is clearly geared towards piano players who want the full pitch range of a real piano with the creativity of MIDI keyboards.
My personal advice is that you should go for a hammer action keys model to have a more realistic piano experience.
Note: in some ways, they come in competition with digital pianos which also offer a MIDI connection. But with much fewer features. On a digital piano, you will only be able to use the keyboard to play notes. No other control, no aftertouch or pitch/modulation wheels.
M-Audio Hammer 88
Why we love it?
This is an affordable but premium MIDI keyboard with hammer action. The keys have a realistic piano action which will suit any piano player, while having access to all the power of MIDI. The software included are of quality as well.

Any issue?
Some people may find that it lacks controls for a MIDI keyboard. Indeed it is very simple. Just a matter of choice in my opinion. Nothing wrong with it.

Key features:
USB/MIDI controller with weighted hammer mechanism
Plug and play capability when connected to a Mac or PC
Pitch bend and modulation wheel
Volume fader and up/down buttons
Keyboard zone assignment for keyboard split, layer and 1 finger chord function (4-voice)
Easy editing of the parameters via Hammer 88 Editor
iOS Compatible with Apple iPad Camera Connection Kit
Includes software package licenses: AIR "Mini Grand" Acoustic Grand Piano AIR "Velvet" Vintage Electric Piano AIR "DB-33" Tone wheel Organ Simulator and SONiVOX "Eighty Eight Ensemble" Authentic Piano Instrument Ableton Live Lite
Includes a 3-month Skoove license for online piano lessons
Music sheet stand included
Power supply: via USB or external power supply (not included)
Dimensions: 1420 x 300 x 130 mm
Weight: 17.5 kg
Studiologic SL88 Grand
Why we love it?
This is a very high-quality keyboard with premium Fatar action wood keys, the professional-grade TP40 wood. But contrarily to a piano, it features aftertouch for more expressivity, 4 split zones, 3 joysticks to control your DAW, a color display. In essential, almost like a piano with powerful MIDI controls.
Any issue?
Keys might feel noisy. Something usual with hammer action keys.
Key features:
88-key weighted hammer action keyboard TP40Wood with Aftertouch
Keys with wooden core and Ivory Touch key surface
New 6-way joystick control
3 Function buttons
4 Programmable zones
4 Programmable pedal connectors
3 Joystick controllers
TFT color display: 320 x 240 px
Editable and programmable software
New programmable Key-Balance function
6 Editable velocity curves
Magnetic rail system for holding sheet music and laptop (holders not included)
Dimensions (L x W x H): 1260 x 310 x 110 mm
Weight: 20.8 kg
Includes power adaptor (9 V DC, 1 A) and VFP1/10 sustain pedal
Includes a collection of virtual instruments upon registration of the hardware
Nektar Impact LX88+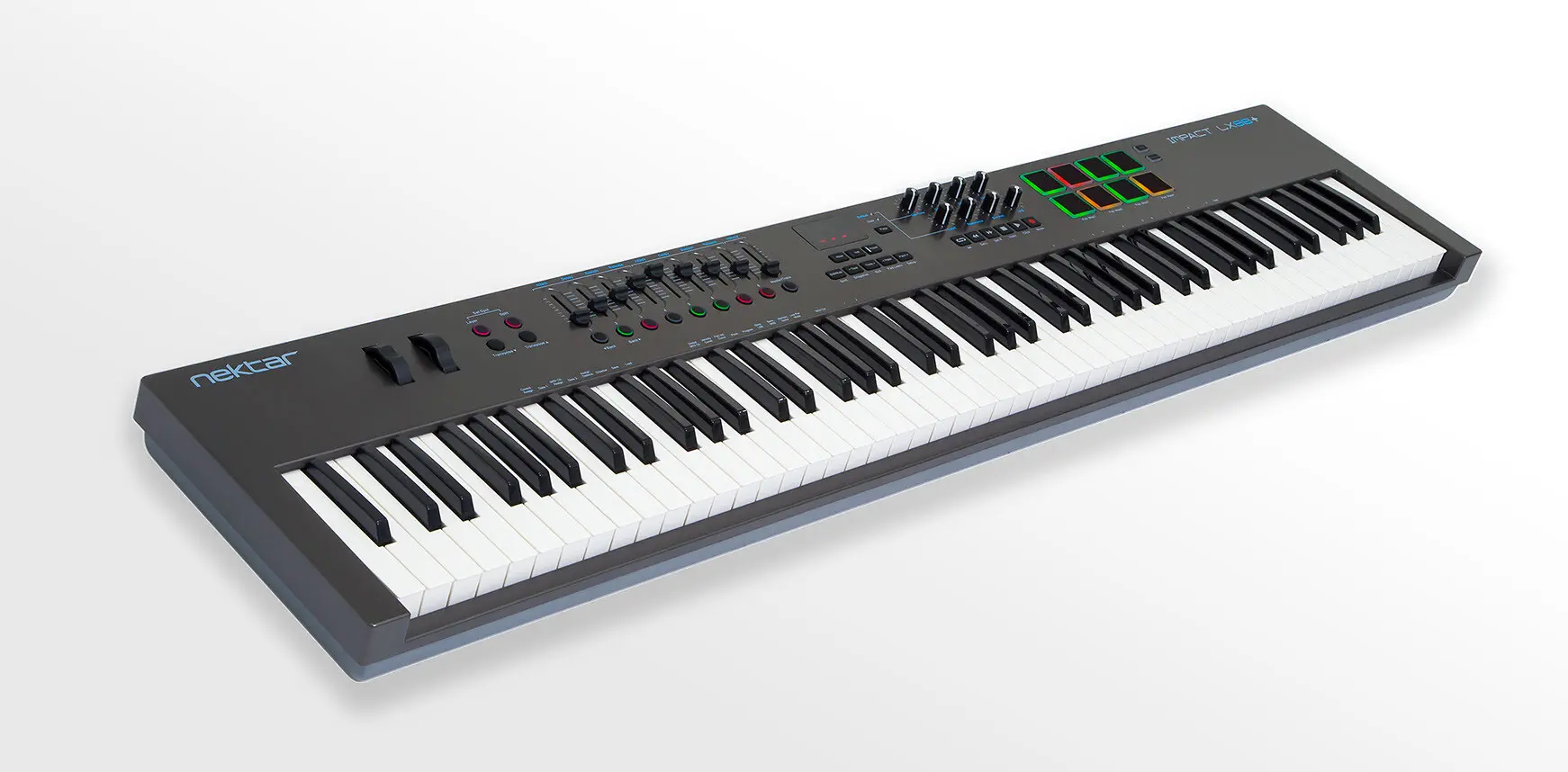 Why we love it?
While I recommend hammer action keys, you may prefer light action and this model is a good one. It has lots of controls such as faders, transport buttons, knobs or freely assignable buttons. You will benefit from a full range keyboard together with full control of your DAW. For this low price, you will have a nice little keyboard.
Any issue?
Nothing particularly wrong with it, except if you need aftertouch.
Key features:
With 88 velocity-sensitive keys
Extensive DAW integration incl. track volume and track select, patch selection and much more
9 Fader 30 mm
8 Rotary potentiometers
9 Assignable buttons
6 Transport buttons
Octave-switch
Transpose-keys
Pitch bend & modulation wheels
4 Velocity curves plus 3 fixed velocities selectable
8 Velocity and four-colour illuminated pads with 4 storage locations for pad mapping and pad learn function
Clip and scene button for clip-based DAWs
Advanced transport functions incl. click, locator, go to, and others
5 Storage locations for sets with user-defined parameter assignments
USB powered
Connections: Sustain pedal, USB, Midi Out, optional AC adapter (not included)
Dimensions: approx. 1276 x 279 x 89 mm
Weight: approx. 8.2 kg
Incl. software download Bitwig 8-track
Roland A-88 MKII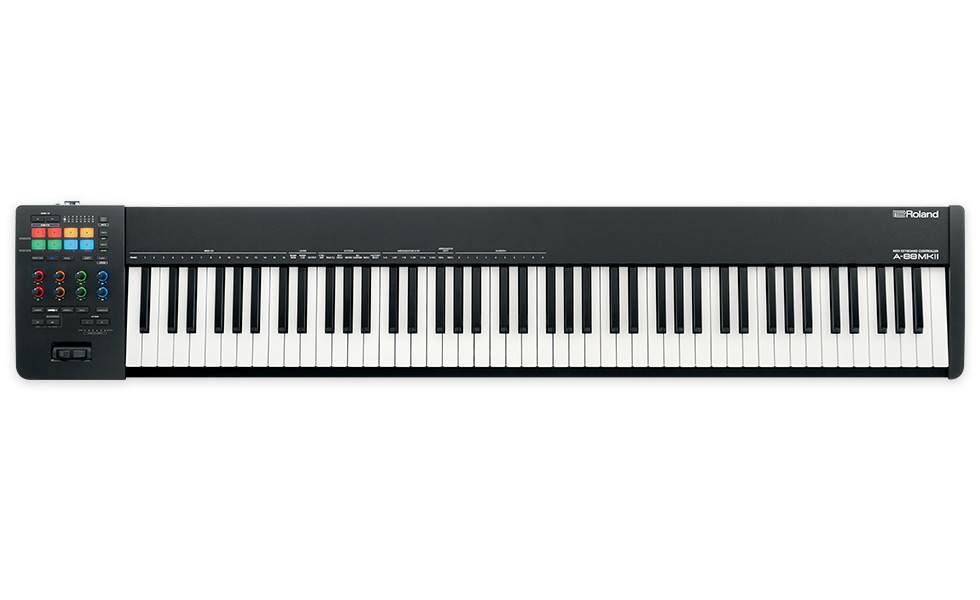 Why we love it?
This is a high-quality keybed from Roland is a sturdy housing featuring wood and high-quality material. It is made for durability with professional use in mind. Interestingly it offers USB-C connection which is quite rare despite its growing use in all electronic devices.
Any issue?
It doesn't feature aftertouch which can be a break dealer for some people.
Key features:
Weighted 88-key keyboard with ivory feel (PHA-4 standard)
Three definable keyboard zones
Joystick for pitch/modulation
+/- Button for octave selection and adjustment of keyboard sensitivity
Arpeggiator and chord storage
8 RGB illuminated pads and rotary knobs to control MIDI hardware and software (16 banks, freely programmable)
Supports MIDI 2.0 standard
Robust housing with wooden elements and high-quality materials
USB-C port
MIDI in/out
Sustain pedal connection: 6.3 mm jack
2 Expression pedal/footswitch connections: 6.3 mm jack
Power supply via USB-C or external power supply (PSB-1U, not included)
Dimensions (W x D x H): 1429 x 274 x 119 mm
Weight: 16.3 kg
Arturia Keylab 88 MKII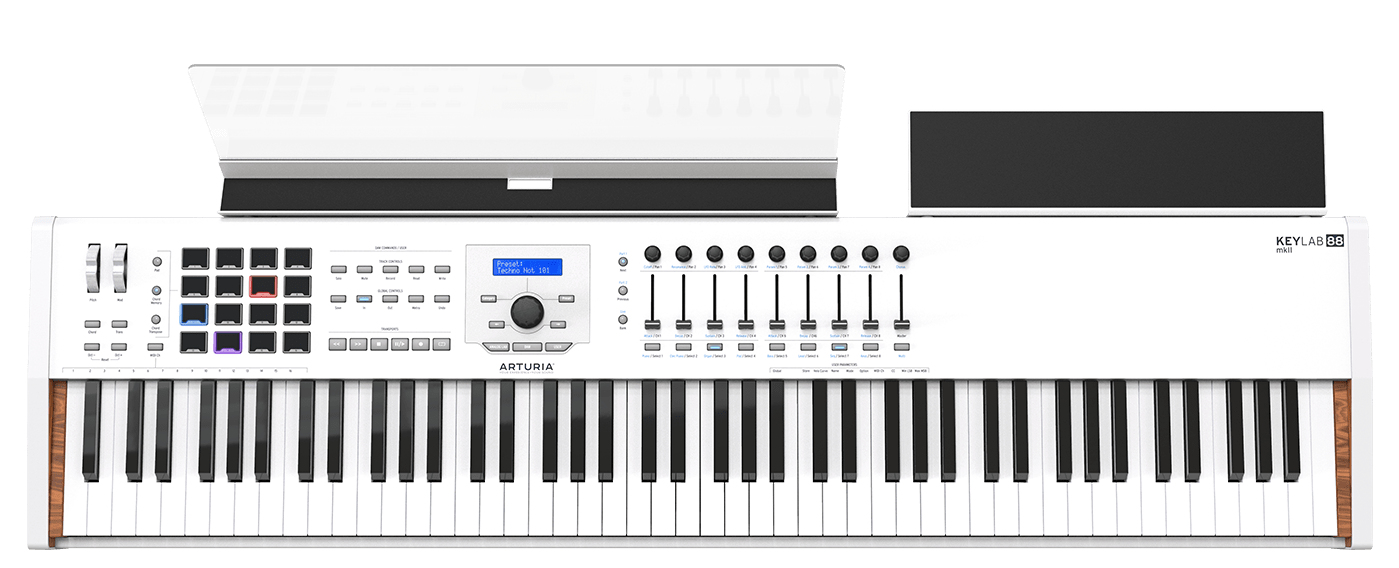 Why we love it?
This is clearly one of the favorites on the market and I am considering it for myself. Premium keys with hammer action, lots of high-quality controls to keep your hands on the keyboard without having to grad a mouse or the trackpad of your computer. And an excellent integration with Arturia's software. It comes with Analog Lab 4 which has pretty awesome sounds. You can download a free version to try it as a standalone, you will love it! I do and I use it for my own creations. They have a preset featuring the sequence from "On the run" by Pink Floyd, impressive!
Nice additions: a laptop rest big enough for an 17″ laptop and an iPad/music sheet stand.
Any issue?
It is all good. A user reported issues with the aftertouch, but it is likely to be an isolated problem.
Key features:
88 Weighted Fatar keyboard with hammer mechanism (Fatar – TP100LR)
Aftertouch
16 Illuminated pads with chord memory function
9 Faders
9 Rotary knobs
LC-Display
Transport section
Pitch and modulation wheel
MIDI in- and outputs
Pedal input sustain and expression: 6.3 mm jack
3 assignable pedal inputs: 6.3 mm jack
CV input: 3.5 mm mini-jack
Pitch and gate outputs: 3.5 mm mini-jack
Mod 1 and Mod 2 output: 3.5 mm mini-jack
Aluminum housing with wood side panels
Dimensions: 1293 x 322 x 112 mm
Weight: 15 kg
DAW Control: Magnetic templates for Ableton Live, Logic Pro X, Pro Tools, Cubase, Studio One, Reaper, as well as standard Mackie and HUI set-ups
iPad/Sheet music stand
Removable laptop rest
Software packet consists of Analog Lab 4 with 6000 synth sounds, Ableton Live Lite, Arturia Wurli V, Arturia VOX Continental V, and Arturia Piano V
Native Instruments Komplete S88 MkII
Why we love it?
With the Arturia, one of the best 88-key MIDI keyboard of the market. Excellent keys with hammer action with individual lights which are not only a decoration but are useful to show the split zones or to learn scales. Quite amazing. And probably the best software around. I use a lot of NI Komplete sounds because they are really good and playable. All the parameters are accessible with nice color LCDs using the 8 knobs.
Any issue?
You won't find any fader or pads on this keyboard which might be a problem for some people. Mostly designed for perfect integration with NI software, it might be a bit less relevant if you don't use it.
Key features:
Fully weighted Fatar keyboard with 88-key hammer action
Pitch and mod wheels plus touch strip
Pre-configured mapping for all KOMPLETE instruments as well as hundreds of NKS-compatible (Native Kontrol Standard) instruments from leading third-party providers
Full VSTi support
Tag-based preset browsing: Find sounds quickly and preview them immediately
Two high-resolution color displays
4D push encoder
Light Guide: RGB lights above each key signal drum cells, key switches, chords, keys and more
Smart Play: Recognise keys and reversals with the Light Guide
Seamless integration with MASCHINE hardware/software
Intuitively control Logic Pro X, Ableton Live, Garage Band, Cubase and Nuendo
Two freely assignable inputs for foot pedals
MIDI In/Out
Dimensions: 1390 x 346 x 115 mm
Weight: 13.2 kg
KOMPLETE Select included
Conclusion
MIDI keyboards are wonderful instruments to make music. They open the doors to infinite ways to be more creative.
And you can always get more (virtual) instruments and sounds.
Even with a very cheap keyboard, if you use a high-quality software, you will get great sounds.
You don't need to buy high-end models contrarily to most musical instruments, and you don't need a collection of these. You can bring a full orchestra in your bedroom.
Powerful.
In this article, we have listed the best options out there with different sizes and price ranges. You should get the right one for you.
Also, don't forget that many models exist in different sizes. So if you felt in love with a 25-key model I listed here but you would prefer a 49-key version, click on the link of this model and check out if it comes with more keys.
Or ask me in the comments below or through the contact page.
Now, you are ready to make music!
If you want to start writing songs, read our guide here.
If you are ready to start your career and make money with your music, read this article to find out 21 ways to do it. But be sure you first understand the whole system to become successful at your music business.